Hi, I like to help people in education, business, and philanthropy create sustainable legacies. I work with global companies and personal brands that change the world. 

Get massive traffic online through paid ads and content,
Improve your sales funnels and workflow,
Level-up your website to capture more leads,

Use the power of niche influencers to expand your reach,
. . . you're in the right place!
We help entrepreneurs, small businesses, creatives, and leaders improve their reach and results through story, digital marketing, and proven strategies. 
If it has to do with getting traction online and improving sales conversions, we can help.
Here are a few basic skills and specialities they possess:
My ad specialists have experience working with FB Ads Policies, Copywriting, Email Auto-Responders, Fb Chat Bots, and Video Editing. All these are important components to running a solid campaign.
A great marketing campaign follows a strategic sales funnel that mirrors the buyer's journey. Online, this can be a tricky. However, my analysts meet the buyer where they're at and convert their website visits to sales.
Lead generation is about creation optimal systems. To be effective and efficient, every system is evaluated, tested, and implemented to bring clients their desired result. To sustain success, system maintenance is routine.
80% Facebook/Instagram Ads
20% Marketing Consulting & Sales Funnels
I work with the finest specialists in the industry. We are a small, agile team of three that can handle all your digital marketing needs. In addition, I work with several talented partners as needed to provide exception services to each client.
On our Praise page, you'll see how we've worked with everything from iconic brands to new solopreneurs across the globe. We strive to understand customer audiences so we can deliver the highest ROI and create influential brand ambassadors.
Kolbe-A: Quick Start and Implementor
Strengths Finder 2.0: Futuristic
Fascination Advantage: The Architect
Meyers-Briggs: INFP: The Healer
Four Tendencies: The Rebel
I'm a fan of 20% theory and 80% practice. I've never taken a formal business course in my life, yet managed to become a medical director that helped grow a business from 1 to 17 locations.
Because of this experience, the state allowed me to teach business in public institutions, and serve as the state representative for vocational education [STEM] in Oregon. My last stint was at Portland State University and Concordia where I got to bridge the gap between college curricula and industry needs.
In 2009, I created a digital marketing agency long before social media marketing was even a thing! I have consulted over 200 physician practices and then created a system to serve other industries.
However, not everything in my career story has been smooth. 
Let's just reframe failure, shall we?
Failure is feedback. I'm not ashamed to say that I failed my first startup in spectacular fashion. Ultimately, these lessons made me become a better business consultant.
Hundreds of clients later, today I work with businesses that need to deliver real results to their customers and need someone with experience to get them there.

What does it cost your business to get a customer to walk through the doors? According to a recent study by SEOmoz, Facebook Ads is the cheapest and most effective way to advertise.
Bottom line: You can reach more highly-targeted people spending less money on Facebook.
The question is, are you using FB Ads effectively?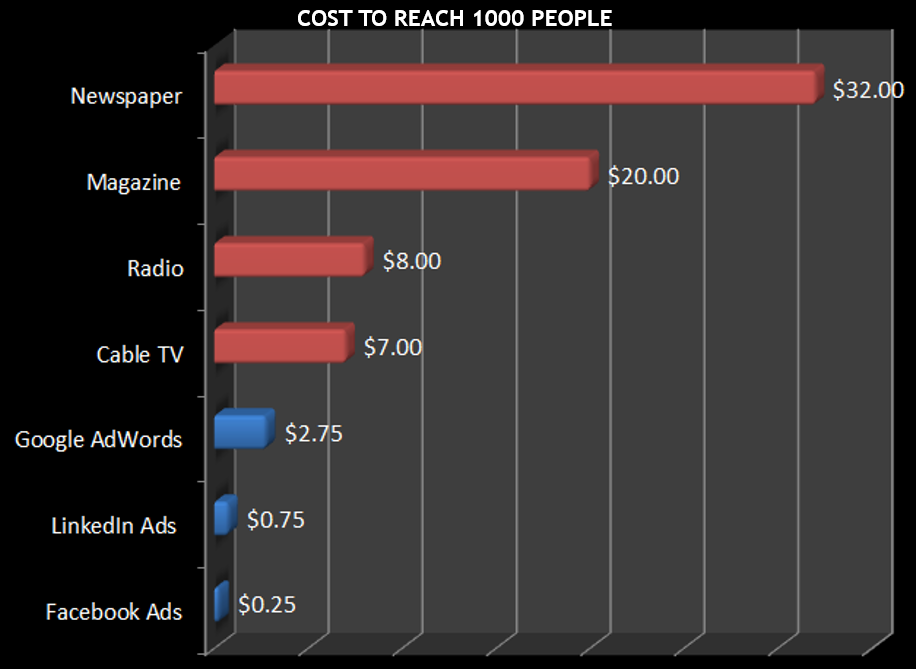 The heart of what we do is strategic and authentic communication to your ideal customer on the best platforms.
There is attention to detail in everything we do. The result is high quality, high value, and high response.
Our focus is on delivering value well beyond your investment for an enduring business relationship.
We practice data-informed, but experiment proven decision-making. This minimizes costs and mistakes.
Every person on our team is a specialist with over 10 years experience helping clients with custom solutions that deliver.
Audience Insights → Strategy → Platform  → Execution → Optimization → Repeat
Facebook Marketing Specialist for local and global brands. 
Business and personal coaching for accelerated results.